Beautiful Criterion Collection covers of Wes Anderson films. The cover of Bottle Rocket was designed by Ian Dingman. The rest of them were designed by Eric Chase Anderson, Wes Anderson's younger brother, who also created all of Richie Tenenbaum's drawings in The Royal Tenenbaums.
The luggage set created by LV for The Darjeeling Limited is so magnificent and dignified. You could certainly stroll onto a steamship or a first-class sleeper car in style with these pieces trailing behind you. And the best part is, its ultimate function has extended beyond a prop or holder-of-beautiful-things-on-steamships. After the movie these pieces were auctioned off, with proceeds going to a charity in India. Stylish, functional, and good-hearted!
And a picture of the character Margaret Yang from Rushmore, probably one of my favourite peripheral Wes Anderson characters of all time. No hilarious over-the-top moments or obvious eccentricities; just a soft-voiced girl in a peacoat, spectacles, and beret with her own problems and an enormous depth of understanding.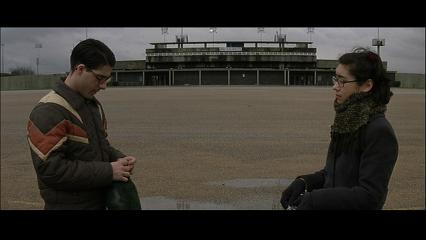 MARGARET



...you were a real jerk to me, you know that?



MAX



I'm sorry, Margaret.



MARGARET



Well. anyway, nice to see you.