As I get older (shhh...), I always love to ask new people I meet two questions. 1) What was your first job? and 2) What did you wear to prom? These were especially useful questions when I wasn't living in Canada and making friends that I didn't know in High School/Uni. These people came to me as full-formed 20somethings, and I always wondered- what happened before?

Most people are now well out of their first jobs. When I was slogging my way through the working world, I would often meet successful and powerful people who told me their first jobs were at tiny grocery marts or mowing lawns. Everyone starts somewhere, and it's inspiring to see what leaps, bounds, and meanderings led a person to where they are now.

The prom question also offered me a weird and often amusing glimpse into the past. 20something stark-black-outfit-wearing fashionistas would tell me about their baby blue Cinderella prom dresses. People would sigh and get misty-eyed, or cringe and instinctively go and burn their photo albums.

This is exactly what I wore to prom seven years ago (a modern re-creation). A purple dress from Holt Renfrew that was twice as much as I wanted to spend on a dress. I told my parents I would wear it again, and to keep the entire budget down clopped about in $25 clearance Anne Klein heels (pictured) and did not get my hair done.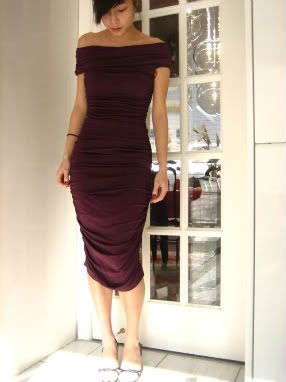 Flash-forward seven years and true to my promise to my parents, I am once again swanning about in this gown. Once again, to a school 'formal'. Yes, it only took almost a decade to "wear it again", but I am getting more use out of it. It looks a bit awkward and bunchy in this photo (smoothed out a bit in reality), but I hiked it up a bit and dropped one of the shoulders. In my tradition of wearing obscenely cheap shoes, I am wearing $8 shoes purchased from a Shanghai market.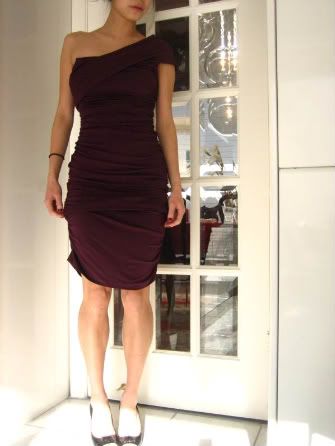 What will you wear to prom? What did you wear to prom? Do you still love it? Oh, nostalgia!
p.s- I'm still dating the same fella I went to prom with. Well I suppose some things never change.